04/10/2017
Yes, The March Jobs Report Was Disappointing. No, You Shouldn't Freak Out.
James Pethokoukis, Ricochet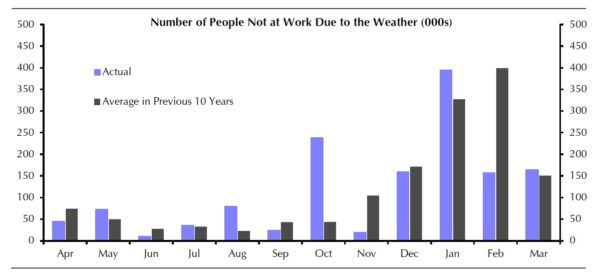 Wall Street was predicting a March payrolls number of around 180,000. But it came in light at 89,000. Another positive month, though. One of many. As IHS Markit notes (bold is mine), "The string of consecutive months of payroll growth is now 78—the longest since official record keeping began in 1939. One can infer from the length of recessions prior to 1940, that the string is also the longest since 1854."
Still, not long after, the following phrase was trending on Twitter: "Big Slowdown for U.S. Economy." It came from a New York Times story whose headline (which I clicked) was then apparently altered to the less apocalyptic "Job Growth Loses Steam as U.S. Adds 98,000 in March."
But the damage was done. The Twitterverse, especially the anti-Trump section, had heard enough. Among the tweeted responses, stuff like this:
Trump still gonna tweet "JOBS! JOBS! JOBS!" after reports of this Big Slowdown for U.S. Economy or is he gonna go "the numbers are fake"?
And this:
Apparently being the best jobs president ever involves delivering less jobs than were expected…Big Slowdown for U.S. Economy
There were even suggestions that last night's Syrian missile strike was meant to divert attention from this horrific jobs report.
People need to settle down. First, these monthly numbers are volatile and get revised. It's always smart to average. And if you do, you'll see that over the past three months, job gains have averaged 178,000 per month vs. 187,000 last year. So a modest slowdown — with some bad weather effects in play — during a long recovery.